Shivam College Of Education (SCE) located at Rikhia, Khata No.-6/2, Plot No.- 47, Mouza-Babudih, Anchal- Mohanpur, PS- Mohanpur, PS No.- 525, Near Rikhia ashram Deoghar- Rikhia, District Deoghar(Jharkhand) is run and managed by Shivam Educational Society. The college has been established in the year 2017.
The College is an imperative need for a larger number of untrained graduate youths of the region and make them qualified to seek employment and to promote human resource SCE which could be safely entrusted with the responsibility of teaching the students in the light of cultural, religious and linguistic heritage of tribal community of Jharkhand so that they may be able to discharge their national obligation, making India a glorious nation. SCE is having well equipped building with well equipped laboratories, library and other essential facilities as required by National Council for Teacher Education. It is located in a very peaceful area having wonderful scenic beauty and well connected from Deoghar.
DIRECTOR MESSAGE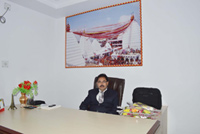 At the SCE Group, we believe that we, as a society are at a defining point in time; a time that future generations shall look back on with admiration and be inspired to create an even greater future. The strong SCE Family is a learning community with ignited minds and a passionate commitment for a common purpose. Through Education, we seek to build bridges and replace empty minds with open ones by nurturing a spirit of inquiry, creativity, entrepreneurial and moral leadership among students.
Read more